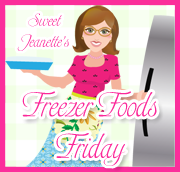 We have been sorta sick around here so I'm posting more of a just my 2 cents contribution and a link to a post I did about soups.

Tip for today, keep some home made chicken soup in the freezer. I usually save the tips of the wings from chickens or boil the back making two meals. Most of the time I make a casserole or soup and we eat it later that week. Some times though I make the soup up and keep it in the freezer for days when we are sick.

Chicken wing tips can be boiled when you have enough (15-20) and then removed, you then have a good broth. You can add seasonings, carrots and celery prior to boiling and then add what ever else you want when the tips are removed. Keep some of this in the freezer for when you are sick or are busy taking care of loved ones.

For the post on soups I did earlier go HERE. All of these are Freezer Friendly.